For ages 2-99 years old

Can carry adults up to ~220lbs
built in seat, safety belt included

fits up to 77 liters
When you love your MiaMily Carry on luggage, and now need more luggage space, the Check in 24" is the perfect size without medium luggage. Like all MiaMily luggages, it converts into a ride on suitcase, supporting up to 220 lbs / 100 kg so even you can sit on it providing a place to sit when all boarding gate seats are taken or when you have to wait in long security lines.
Built in seat back great for multi use: child riding, portable seat for adults, bag storage
Suitable for children and adults
Total weight capacity of ~220lbs / 100 kg (including luggage contents)
Patented design
5 Year Product Warranty
Bag hook on seat back
Universal TSA approved 3 digit lock
360° degree wheels
Seatbelt for child included
Dimensions: 64 x 45 x 31 cm / 25 x 17.7 x 12.2 inches
Weight: 14.2 lbs / 6.5 kg
Volume: 77 liters
Hard shell: polycarbonate
Built in seat: polypropylene
Interior lining: polyester
How sturdy is the luggage?
The shape of the luggage is designed with a wider base to add more stability and a smoother ride.
Is it safe?
This is a ride on suitcase with a built in seat belt recommended for children ages 2+. Please note however that this is not a toy and only one child should be seated at a time, always keep your hands on the luggage and use the safety belt. Never leave a child unattended on the seat alone and never seat a child on the luggage when empty.
Where do you ship?
Click here to find out where we ship.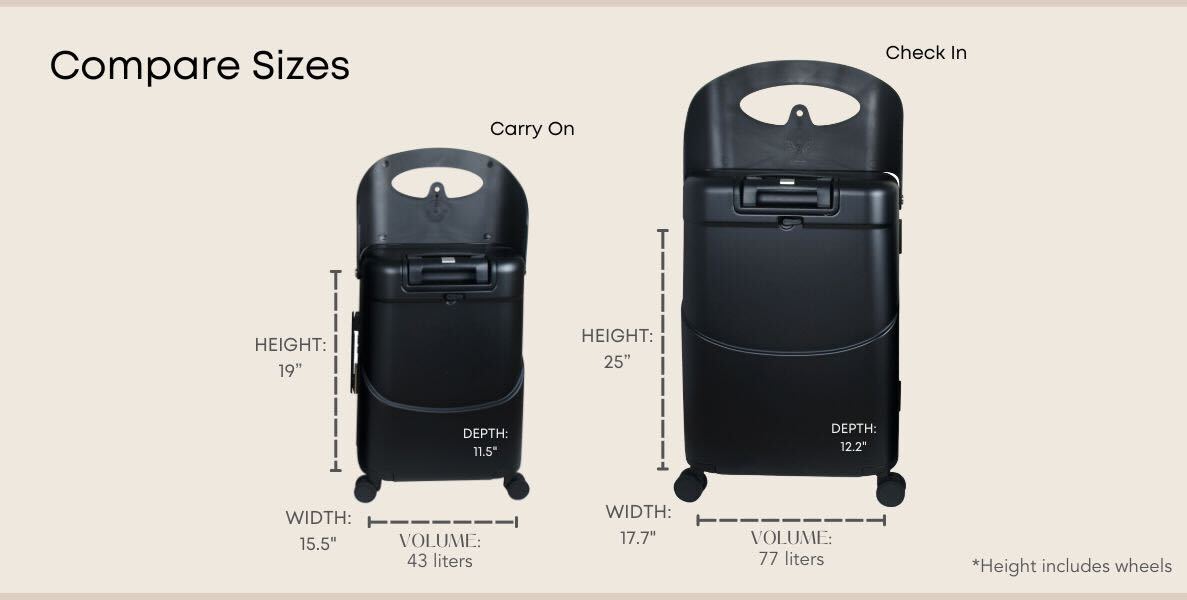 Rave Reviews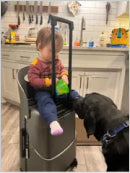 Worth every penny
01/28/2023
Worth every penny
This item is fabulous. I could not recommend it enough. I don't like traveling with strollers and this was the solution. Kiddo loved it, plus while they were wandering around with dad I took a turn sitting on it. Super comfy. We will be getting a second one with kiddo #2.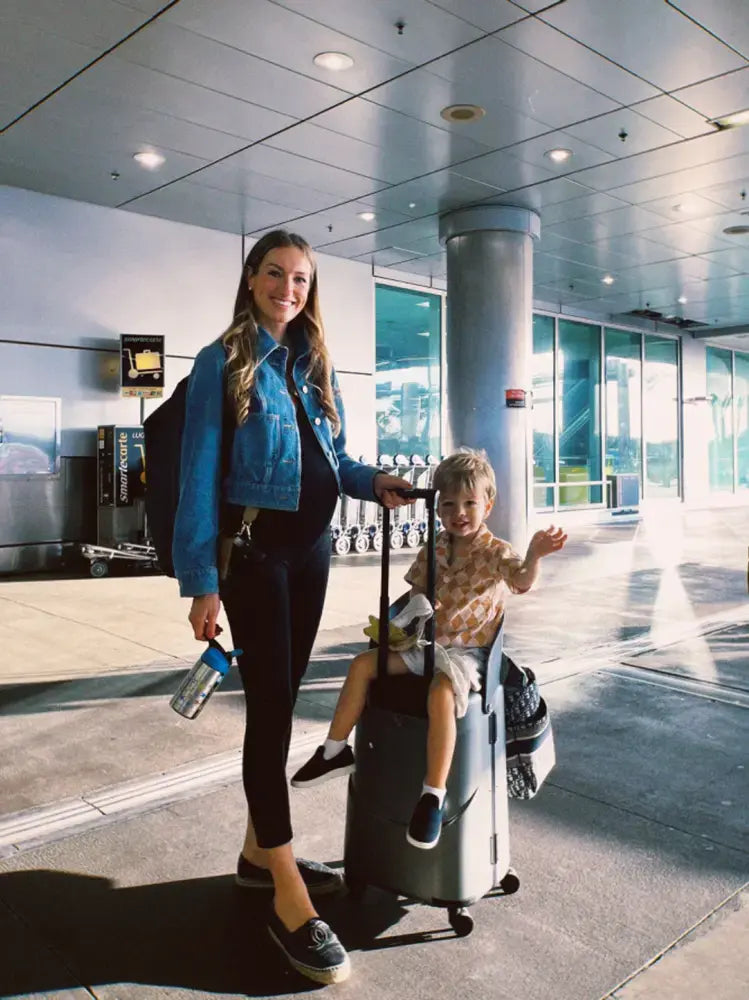 I Will never travel without it
02/02/2023
I Will never travel without it
I have a 2 year old, a 1 year old, and another baby on the way. This suitcase makes traveling with little ones so much easier! They love riding on it! I love knowing that they are safe and near me. The suitcase holds a surprising amount for being carry-on size. It holds 1/3 more than my carry-on Tumi. Even when it's overstuffed I can close it securely. Absolutely love my MiaMily bags. The only downside (if you would even call it that) is that when people ask you where you got it, you have to spell out the name because it's not easy to understand and remember.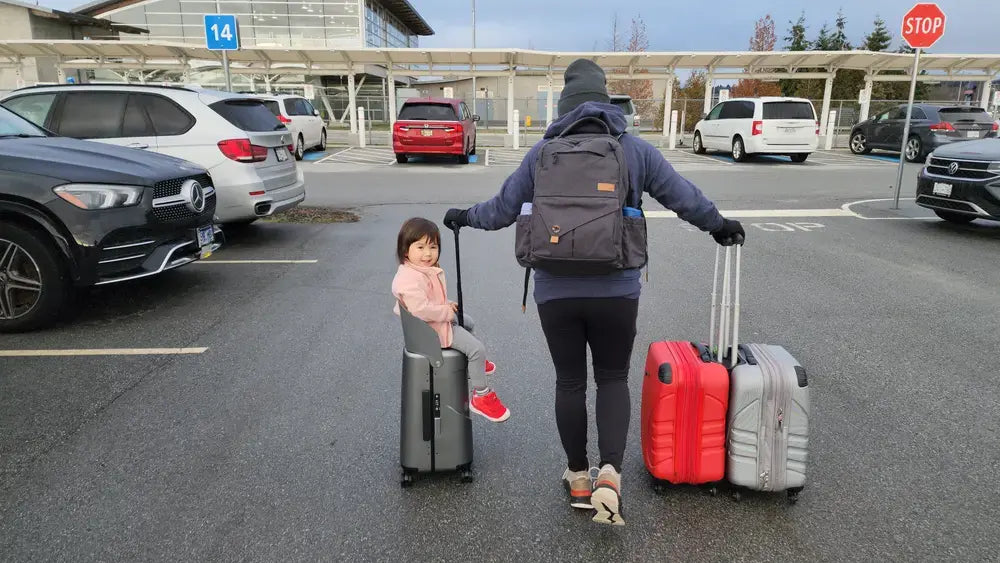 Don't hesitate... just BUY IT. You won't regret it!
01/17/2023
Don't hesitate... just BUY IT. You won't regret it!
Like everyone else on this page, I'm about to sing their praises for the 2000th time. We made the brave decision to ditch the stroller and travel with a 2 and 5 year old with the Miamily Multicarry 20" luggage. Oh boy. This suitcase was a literal life saver. It kept my kids from running into traffic and parkades. Yes! It has a safety harness. Travelled through parkades to the airport, through to the gate smoothly and seamlessly all while turning heads everywhere we went. No joke. You will feel like a celebrity. And rightly so! It's not just a kid-carrier; this suitcase is luxurious and functional in everyway. No zippers to fumble with. Locks and clicks open like a breeze. The only downside was that we only bought one so our kids were fighting over who got to sit in the 'rolly seat'. Fit just fine aboard Air Canada and Air Transat overhead compartments. If you're on the fence (like we were), just BUY it. You won't regret it. Needless to say, I'm so grateful for this product. I've been a big fan since the 3D carrier days and now this. I cannot wait to see what Miamily comes up with for the next stage in our family life! Thank you, Cecilia and Alessandro!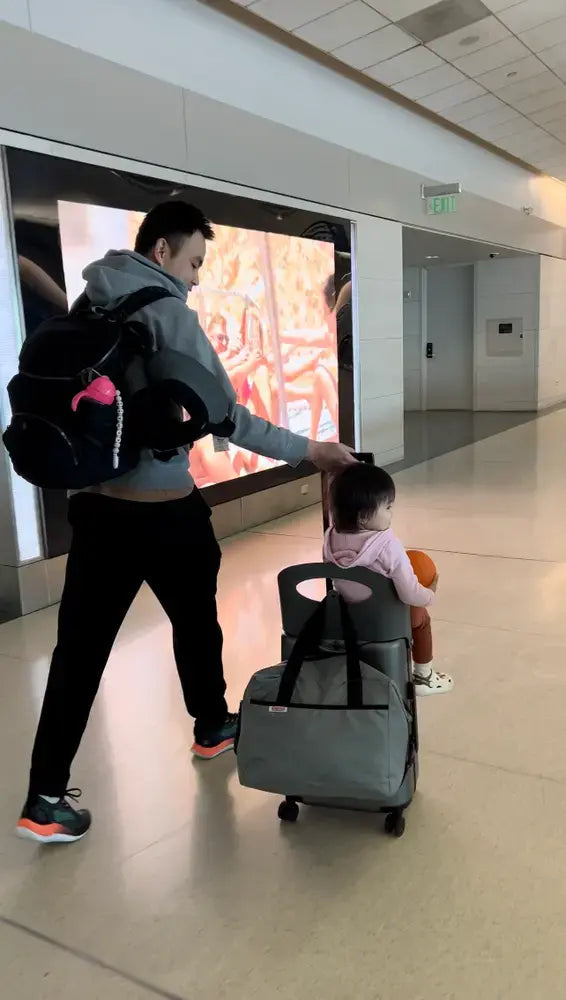 Awesome carryon for travel with a toddler
01/16/2023
Awesome carryon for travel with a toddler
I've been using this carryon on 4 trips with my 18 months old already and love it so far! I like how sturdy it is and rolls very smoothly even with a 26lbs (my toddler) on top. My daughter enjoys riding it whenever she gets the chance. This carryon was well worth the price!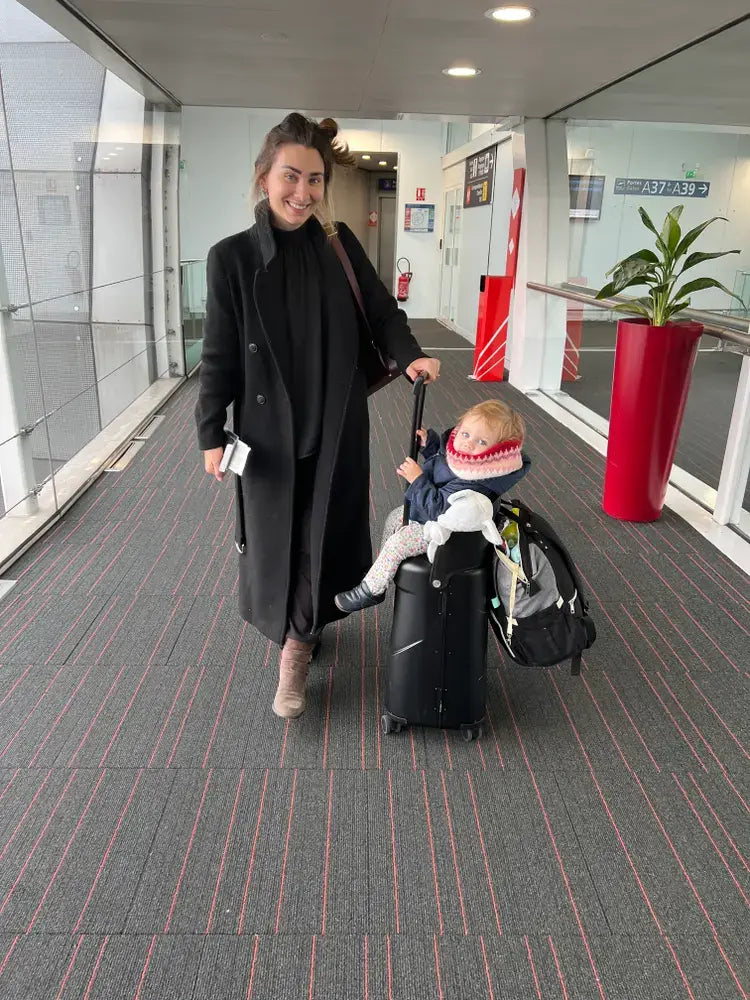 BUY IT NOW
Best luggage I've ever had. We travel a lot with and without our toddler. This luggage saves us having to undo/redo the stroller plus she loves it. Also if without child it's the only luggage I've had that holds two bags seamlessly. I get asked sooo many times where I got this by parents whilst traveling and always shouting MiaMily! I borderline considered printing out the name to just give it out as I know how much it will help. Especially saved me when traveling alone without my kid.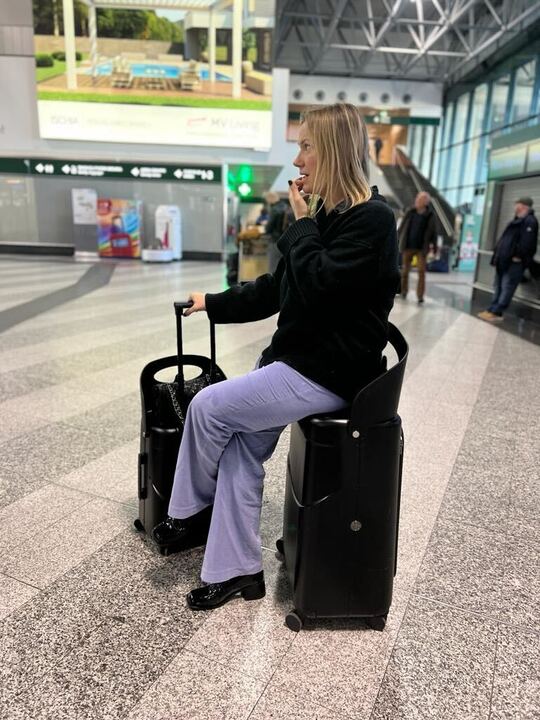 Game changer!
I have both the 20" and 24" and I love the seat design! I went on a business trip without my kids this weekend, and our flight was delayed , our gate was crowded with upset passengers, not enough seats for everyone and I was able to sit on my luggage comfortably and read a book. Quality is good, I love it more than my Rimowa! Buying another set for the family!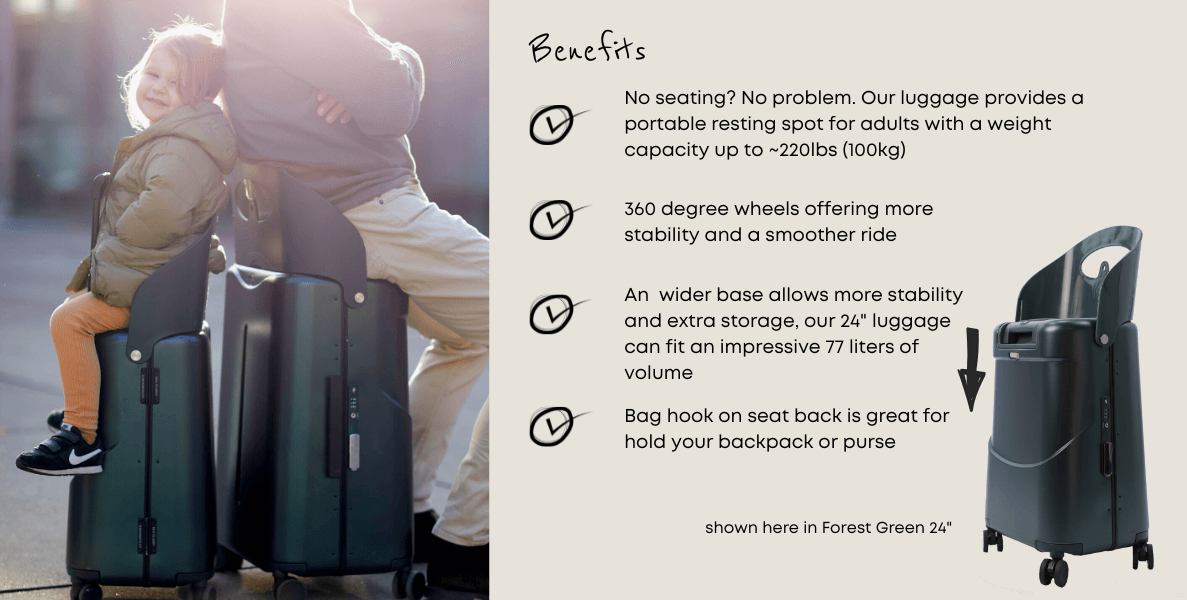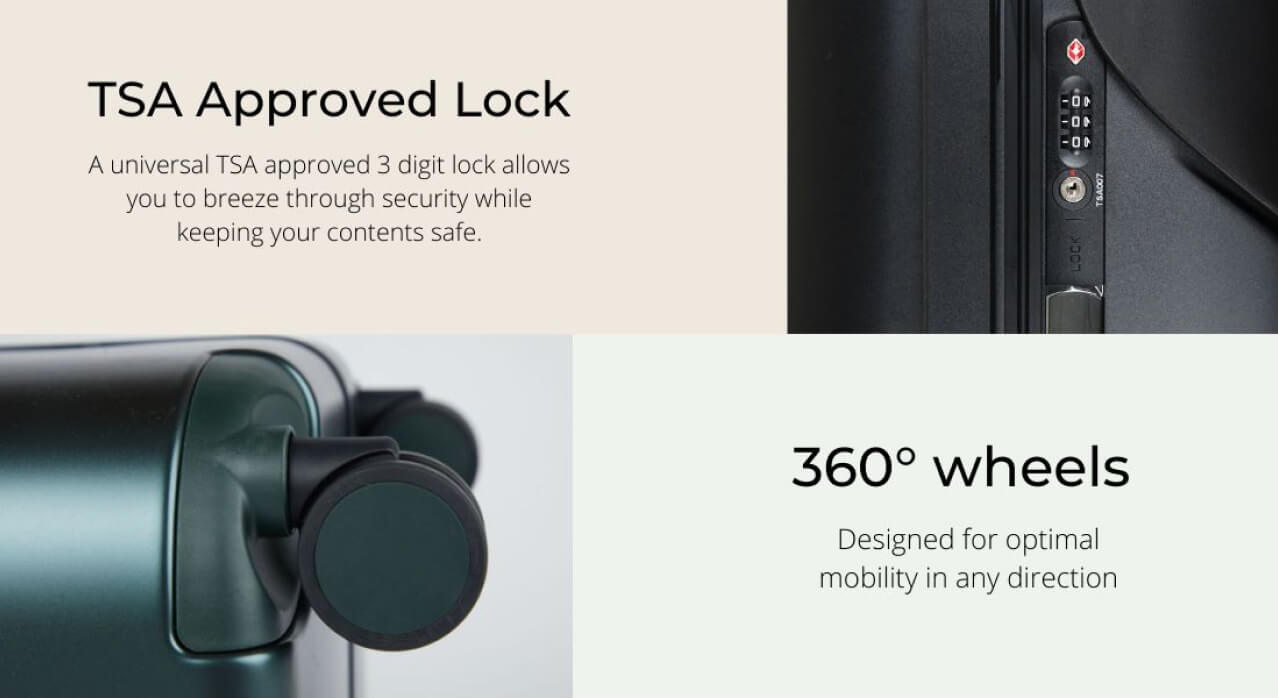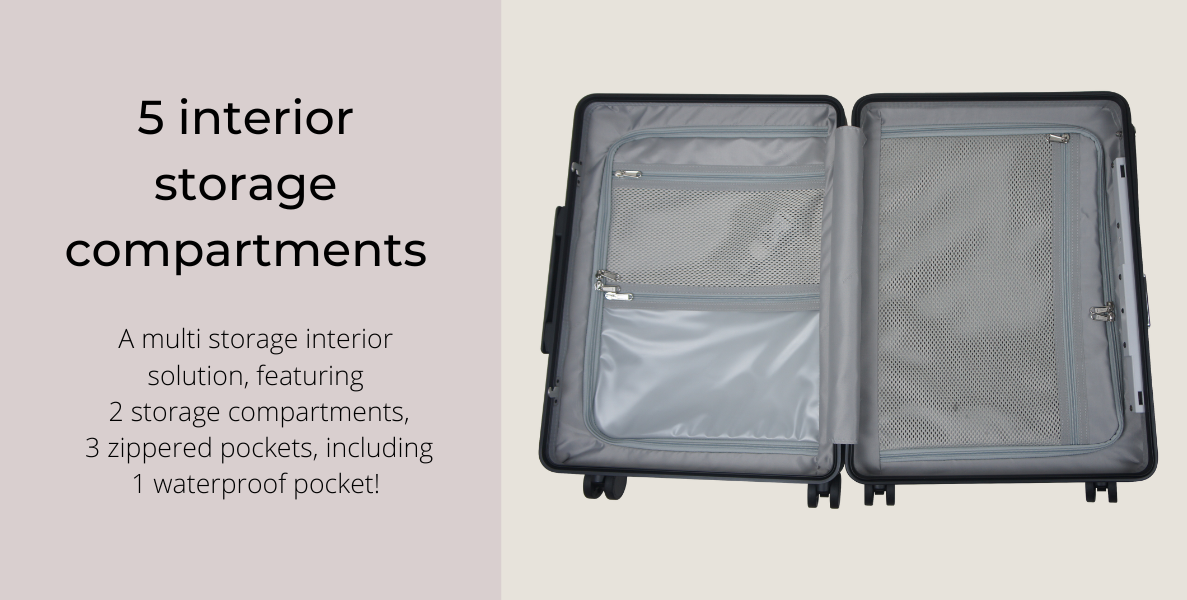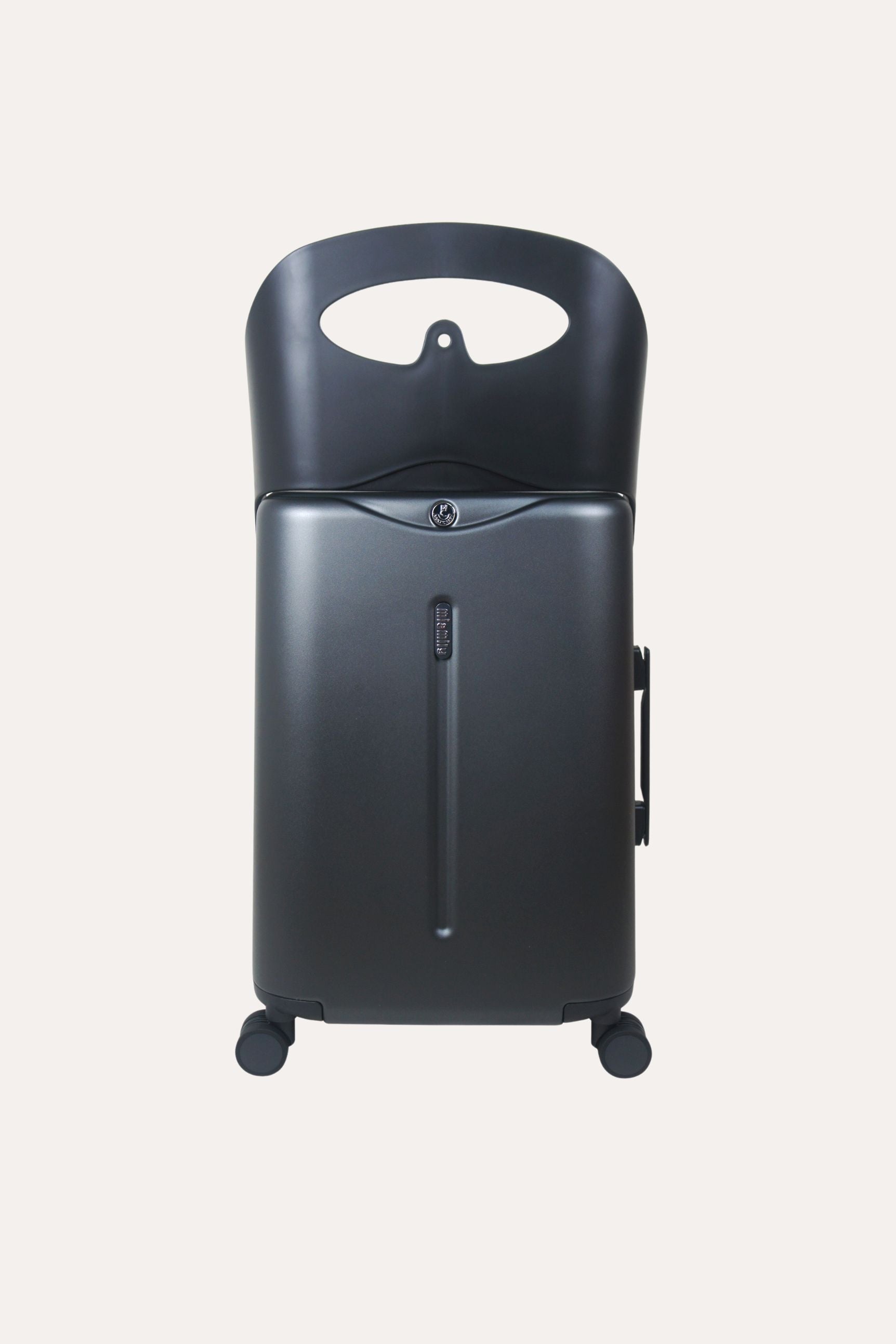 See What Our customers say